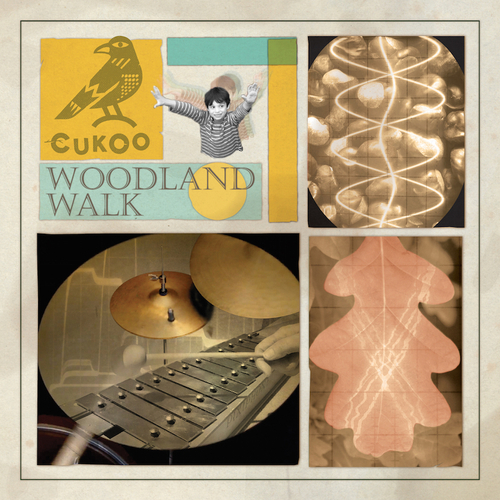 Woodland Walk
Available Formats
Tracks
Price
Buy
CD Album
9 tracks

£

11.99

Out of stock

Download Album (

MP3

)
9 tracks

£

7.99

Download Album (

WAV

)
9 tracks

£

7.99

Download individual tracks
From £0.99
Description
CukoO - Woodland Walk
"The album I wrote a few years ago which was commissioned by Portage in Newham, London, is soon to be released on Patterned Air. It is a collection of tunes based on a trip to the woods and was originally written with Severely and Profoundly Disabled Children in mind. I wanted to write music that both the child and adult would enjoy. I have a background in electronic / space rock / Gamelan / Egyptian / techno so therefore the music I write is ok." — Victoria Wilson

As CukoO, Victoria Wilson creates music as a means of sensory stimulation for children with special needs. In the classroom, each track is played to the children and is accompanied by a physical item relating to the aural 'story' (in the case of this first album, a woodland walk). This item (feather, pinecone, brush etc.) is used to stimulate the child by feel, sound, weight and texture so allowing them to experience a whole other dimension to the story and the sounds, becoming more deeply immersed in it and in their activated senses.

These works are beautiful examples of analogue electronic sounds balanced with traditional classroom instrumentation. So, sitting happily alongside an EMS VCS3 analogue synth, a Revox B77 reel-to-reel tape machine and various oscillators, we find sopranino and treble recorders, glockenspiel, clarinet, saxophone, bongos, acoustic guitar and all manner of other typically 1970's music-classroom paraphernalia. And to this 70's child, the music is redolent of those sunny, dusty music rooms, and nature walks through dank woods, the smell of crumbling corridors and daring adventures in the garden tangle and unknown streets.
Reviews
SIMON REYNOLDS — Blissblog
Included the album in his top 20 of 2016 albums.
THE WIRE — Abi Bliss
"Created by Victoria Wilson, whose CukoO alias follows her time fronting Birmingham electronica group Avrocar, the pieces are designed to stimulate the senses and imaginations of children with profound physical and learning disabilities. Echoing Wilson's Birmingham contemporaries Plone in its mix of melodic simplicity, bric-a-brac arrangements and Radiophonic flourishes (the kit list includes an EMS VCS3 and a Revox B77 reel-to-reel tape machine), these gently upbeat compositions paint vivid pictures without being prescriptive. A carefree saxophone theme over watery field recordings puts listeners aboard a drifting twig on 'River Sticks'; for 'Wind & Leaves' bell-tree chimes suggest encircling trees. Animals are imitated, from the duet of treble and sopranino recorders set against real birdsong on 'Birds' to the metallic synth snuffling of 'Hedgehog'. Yet Wilson always leaves ample room for daydreaming."
ELECTRONIC SOUND — Carl Griffin
"It's an appealing, genre-challenging LP that will really grab those with an ear for gentle experimentation. Field-recorded sounds, narrative voices and traditional 'classroom' instruments (glockenspiel, sopranino recorder and clarinet among them) are beautifully paired with Patterned Air studio's impressive array of vintage electronics that include oscillators and a Revox B77 reel-to-reel. 'Rain', 'Birds' and 'Wind & Leaves' are reverie-inducing, and standout 'Woodpecker', which partners lugubrious analogue sound effects with sensuous mystic-jazz sax notes, summons us deeper into the wood's secret midsummer underworld. All while the faint drumming of the woodpecker can still be heard high above. Superb."
THE SUNDAY EXPERIENCE — Mark Barton
"A release you'd normally expect to be sneaked out by those Trunk types, it's graced in a peculiarly familiar 70's nostalgia that immediately transports those of us of a certain vintage back to infant school, plasticine, spangles and Vision On/Magpie, a beautifully crafted treasure trove, composed, arranged and played so as to act as sensory stimulation for severely and profoundly disabled schoolchildren. CukoO crafts something wonderfully rustic. All in all a delightful sonic school trip for all ages."
Tracklisting
CD Album (AIR002CD)
Download Album (AIR002)
CukoO

- River Sticks

CukoO

- Wind & Leaves

CukoO

- Birds

CukoO

- Hedgehog

CukoO

- Rain

CukoO

- Conkers

CukoO

- Pine Cones

CukoO

- Relax

CukoO

- Woodpecker