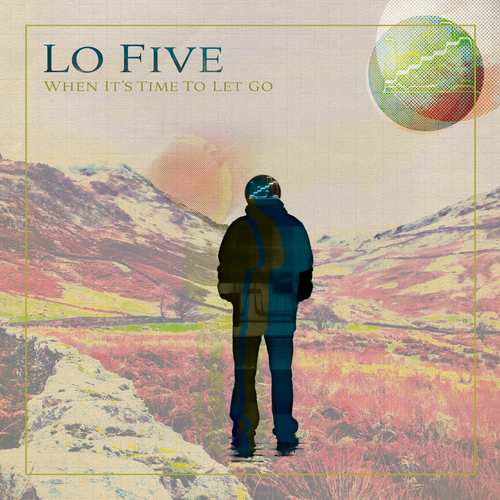 When It's Time To Let Go
Available Formats
Tracks
Price
Buy
CD Album
12 tracks

£

11.99

Out of stock

Download Album (

MP3

)
12 tracks

£

7.99

Download Album (

WAV

)
12 tracks

£

7.99

Download individual tracks
From £0.99
Description
Lo Five - When It's Time To Let Go
"It's like meditation bells. The sound rings out for ages until it's silent, but it's difficult to know exactly the moment it ends. The point being that you sort of become the empty silent space." —Lo Five

'When It's Time To Let Go' is an album of wild spaces and intimate rooms. It's the movement from one place to another both in terms of landscape and state of mind—from one internal place to another via meditation. It's built on a bedrock of field recordings, roomtones and the ceaseless noise of landscape—the sound of Lo Five's coastal backyard in the morning, the interior reverberance of a barn in the Cumbrian lakes during an electric storm, the sound of marine pile-drivers planting turbines in the Irish Sea, bodiless voices ghosting on the fells, the whirr and crunch of real instruments and toys in the playroom.

There's a haze across the album, a volumetric mist and light, deep fogs cut with flickering sunlight. Like glimpsing through the fuzz of a confused thought, the possibility of something lucid forming later. And there are other themes too: the deliciously macabre thought
process of imagined loss—mourning the absence of friends and family not yet gone. Attempts to give our ephemeral lives permanence through photography, videos and audio recordings, whilst simultaneously suspecting it's all immaterial in the end. The ultimate, inevitable
letting go of our human clutter—relationships, shared memories, experiences, material things—everything we've gathered to convince ourselves that we were in fact, 'here', will fall away given time. And it's this play between the fleeting, transient nature of our experience,
and the invocation of vast physical, weather-torn spaces or tiny rooms in homes filled with important things, that give this album its inner life, its irregular pulse.

Instrumentation-wise, the album is built from grainy, crackling synths, chiming mallets, broken pianos, kids' drums, rattling percussion and the occasional ghoulish voice. It sounds like it's been filtered through recurring dreams of announcement tannoys and summer rain
showers in the most perfectly remote holiday park.

'When It's Time To Let Go' is suffused with the traces of people and places humming with life, or emptied of everything. A beautiful soundtrack to human lives caught up in the passing of time, the passing of people and things, and more slowly, the passing of place.
Reviews
Norman Records
"Some albums leave you rooted amongst your sorry 21st century societal surroundings, others take you away to an alien postmodern environment; When It's Time To Let Go often does the latter. The sprawling and ocean-deep electronic landscapes of one-man-wonder Lo Five are as hazed as they are beautiful."
Mark Barton — The Sunday Experience
"Those who keep a cautionary eye on these things will no doubt have spotted a mysterious posting from the patterned air crew alerting – hush hush – about matters relating to a new release in the offing. Well this is it, well an extract thereof, it's by Lo Five, the set entitled 'when it's time to let go' with this being 'interdependants'. Described by the label as 'deep landscape electronics' (and before you ask – no me neither), it's a delightfully demurring slice of rustic wooziness that affectionately twinkles amid the silken arrest of dreamy symphonia, bowed orchestrations and the subtle caressing noir crushed ghosting of oriental motifs, in truth if you are eagerly searching for reference points you could do no worse than to start your journey with the much missed Landshipping and Discordia."
Tracklisting
CD Album (AIR004CD)
Download Album (AIR004D)
Lo Five

- Infantile Progenitor

Lo Five

- Cadaver Trap

Lo Five

- Interdependants

Lo Five

- Mental Formations

Lo Five

- Sabre Contusion

Lo Five

- A Pivotal Moment

Lo Five

- I'd Like To Be

Lo Five

- Death to Innovation

Lo Five

- Machinations of the World

Lo Five

- Leave You Alone

Lo Five

- Almost

Lo Five

- The Emergence of Something Familiar