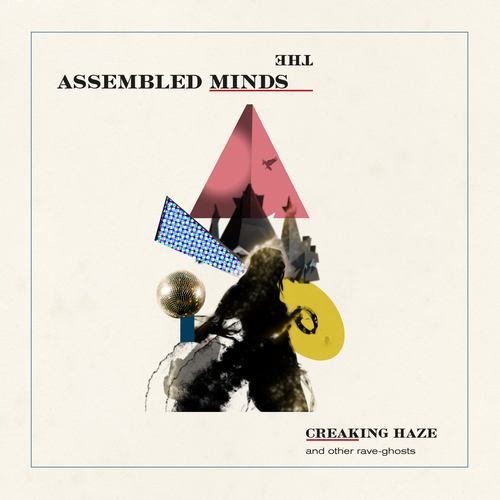 Creaking Haze and Other Rave-Ghosts
Available Formats
Tracks
Price
Buy
CD Album
10 tracks

£

11.99

Out of stock

Download Album (

MP3

)
10 tracks

£

7.00

Download Album (

WAV

)
10 tracks

£

7.00

Download individual tracks
From £0.99
Description
Assembled Minds - Creaking Haze and Other Rave-Ghosts
'Creaking Haze and Other Rave-Ghosts' is an album that almost doesn't exist. It's a cloud of old memories; a collective remembrance-pool of distant Saturday nights out, rave-fields, night-clubs, dancing, getting intimidated, getting high, feeling the love of the tribe but always looking over our shoulders for some dark threat or other. And best not mention the bad trips.

This album is a strange mix of British suspense/horror film tension, and euphoric techno tracks that have wound up mangled together. Listen closely and you'll hear rust-flakes from the eerier moments of Tubular Bells, broken pistons from a flipped Detroit techno juggernaut, even flickery moon-bell-echoes of Morris jigs and baton-clashes. It's a wyrd electronic album of rural myth and country-fear, and its flipside, city-euphoria and night bus anxiety. Music for old-ravers who remember the parties fondly, and want to escape the world and get back to them again. If only for a while, or forever, in their personal mental-night-club.
Reviews
SIMON REYNOLDS
"Great. And differently great - nothing like Burial or Caretaker, or all the revenant-jungle I've been posting over at Energy Flash, or anything else in this vein really...
Rippling reverb-misted pianos and a sleepwalk trance of drum machines and pumping bass - the vibe is much more Ultramarine's "British Summertime" than ardkore. And there's this sound that's in most of the tracks:   a high-pitched "peaky"  timbre that is...  ecstatically edging into dissonance, is the best I can do by way of describing it. 
It reminded me of what Trevor Horn once told me: his belief that great albums have the same sound running all the way through - his example was The Blue Nile's Hats - so that every track is a chip off the same lustrous block, refracting slightly different."
MARK BARTON — The Sunday Experience
"Near perfection as you'd come to expect from this former 4AD alchemist, with its footings and heart firmly located in the past its visionary eye and headspace surveys keenly undiscovered future worlds to fuse an absorbing warmth hued carnivalesque experience tripped to a terraforming cocktail of ambient, trance and trip hop tongues all coalesced into a radiant beacon of feel good euphoria which to these ears sounds like delirious fanfares of lunar oceans emitted from alien sea shells."
Tracklisting
CD Album (AIR001CD)
Download Album (AIR001D)
Assembled Minds

- Mirror Dances

Assembled Minds

- The Face in the Mirror is Not Mine

Assembled Minds

- At the Hands of the Woodland Governor

Assembled Minds

- Come Meet Us in the Grotto

Assembled Minds

- Summoning of the Rave

Assembled Minds

- Morris Horror

Assembled Minds

- Through the Morris Light

Assembled Minds

- There was a Wrong Doing

Assembled Minds

- The Forest Light Initiation Ceremony

Assembled Minds

- Call to the Shining Man